EMF Shielding Safari Hat with 100% UV Protection
Shipping calculated at checkout.
DESCRIPTION
Extremely high coverage of 5G protection for your head and neck
This ultra-lightweight Safari hat from Leblok provides extreme EMF protection (99.999%) combined with 100% UV shielding.
Ideal for warm climates and travel. The detachable combined UV and RF protective sun flap provides a huge protective area across the back of the head and neck. There are NO metal parts so NO RF antenna effect.
Outer and under brim lining material 'UV 100' 65%polyester/35%cotton
100% UV protection
inbuilt moisture management
breathability (allowing) airflow
wicks moisture away from the body
Interlay 24% double silver nylon breathable mesh.
Providing over 50dB (99.999%) RF shielding at 1GHZ.
Shielding Graph: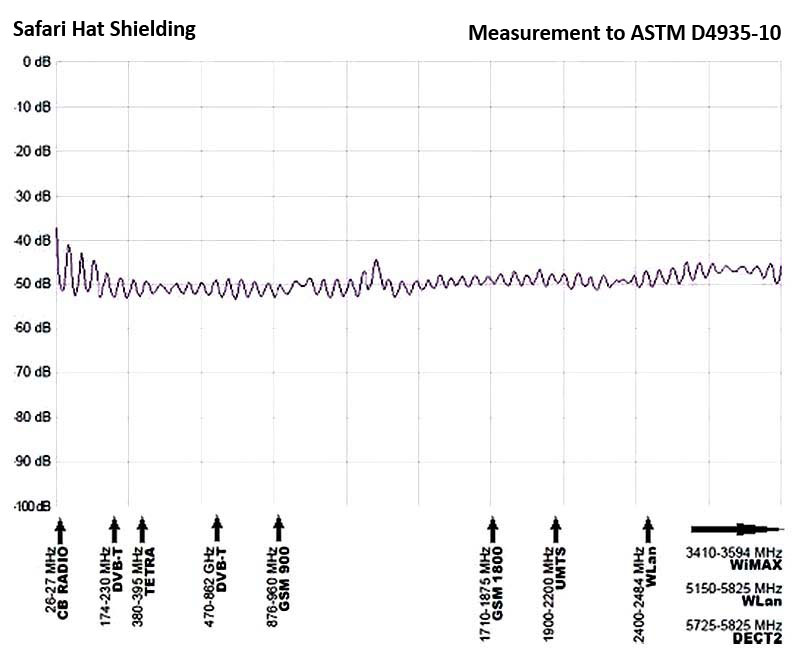 Features:
No metal parts
Detachable RF+UV protective rear sun flap
Fully adjustable chinstrap
Fully Adjustable
Sizes: S - L (from 20-23") and L - 2XL (from 23-25")
Full 360 degrees RF shielding ventilation system
Sweatband
Extreme lightweight hat designed for warm climates and air travel
Total weight (including detachable sun flap) just 73g (2.5 ounces)
Brim is also fully RF shielded
Easily washable and dries in minutes
Non-toxic materials
Tough and durable
Washing instructions: Hand/machine washable at 30C (Drip dry-do not iron). Use only Leblok washing powder. (Other detergents MAY have a severe effect on shielding level)
Disclaimer: EMF Clothing Ltd products are designed to provide shielding against EMR. However there can be many environmental and human factors affecting the effectiveness of this product. EMF Clothing Ltd specifically disclaim any and all responsibility for any adverse health effects or any other adverse outcome that may occur whilst using our products, or any effects that may occur, eventuate, manifest or transpire at any time subsequently. Customers should satisfy themselves that the product is suitable and fit for their own particular situation before purchasing.